Pitching will carry Blue Jays to AL East title
Last season: 89-73, second place – lost ALCS to Indians
Key additions:
DH Kendrys Morales (free agent, three-year, $33-million deal)
1B/OF Steve Pearce (free agent, two-year, $12.5-million deal)
LHP J.P. Howell (free agent, one-year, $3-million deal)
RHP Joe Smith (free agent, one-year, $3-million deal)
OF Lourdes Gourriel (international free agent, signed seven-year, $22-million deal)
C Jarrod Saltalamacchia (minor-league deal)
Key losses:
1B/DH Edwin Encarnacion (signed three-year, $60-million deal with Indians)
LHP Brett Cecil (signed four-year, $30-million deal with Cardinals)
OF Michael Saunders (signed one-year, $9-million deal with Phillies)
RHP Joaquin Benoit (signed one-year, $7.5-million deal with Phillies)
RHP Scott Feldman (signed one-year, $2.3-million deal with Reds)
Strengths:
Starting Pitching
The Blue Jays have the deepest starting rotation in the American League. The team has an ace in Aaron Sanchez and then four other starters who are solid number two-type pitchers. Francisco Liriano is the best fifth starter in the game by far. In fact, he is much closer to an ace than a legitimate No.5.
I was extremely impressed with the work ethic of this staff in camp. Sanchez is a beast, looking bigger and stronger than ever. He was pushing a sled stacked with weights back and forth outside the Jays' clubhouse. Liriano was doing the same thing after he was done running the stairs of the stadium with closer Roberto Osuna. Marco Estradasaid his hard work on his core has paid off as his back feels much better. He claims his worst day now is better than his best day last summer. The health of the pitching staff is a stark contrast from the Red Sox, who have four starters dealing with one thing or another.
Defence
The Jays are as strong as any team defensively up the middle. Russell Martin is one of the best behind the plate. Troy Tulowitzki has the best fielding percentage in the history of the game at shortstop and he knows it. He told me he takes extraordinary pride in his defence and he wants to finish his career as the best. Kevin Pillar is a human highlight reel. Devon Travis is hungry to improve and soaks up every word Tulowitzki shares with him. Josh Donaldson was challenged by Tulowitzki to get better and he has. Justin Smoak is a very good defender at first base as well.
The quality defence is significant for the pitching staff because it can trust that plays will be made behind them. The Jays will rarely beat themselves.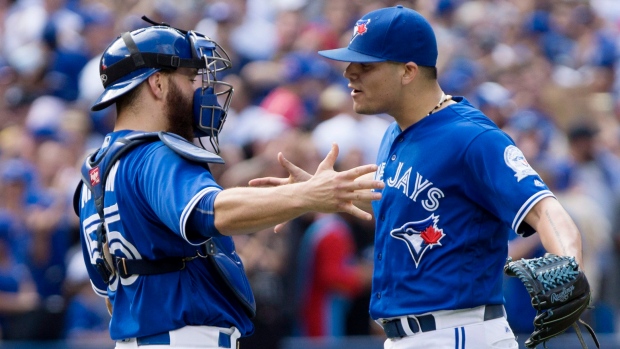 Bullpen
The Jays' pen will be better this year than last, when they went 23-32 with a 4.11 ERA. They had the third fewest wins and second most losses of any American League pen. I like the left/right tandem of J.P. Howell and Joe Smith to cover the seventh inning with Jason Grilli in the eighth to get the ball to Osuna in the ninth. Joe Biagini will be a swing man in the seventh and eighth as well.
Offence
This Jays team won't slug like the 2015 team that outscored everyone, but they will score enough. Travis is the key. If he stays healthy and can do what the Jays and I believe he can, then Toronto will be set. Manager John Gibbons and staff believe Travis can be an elite hitter. He will emerge as the leadoff man they need, allowing Jose Bautista to stay in the middle of the lineup. Bautista is far better served as a run producer as opposed to a table setter.
Kendrys Morales got rave reviews from teammates for his professional approach and preparation. As a switch-hitter, he gives the Jays the balance in the middle of the lineup they desperately needed. I watched Tulowitzki take batting practice and I see the approach that should get him back on track as the threat he was in Colorado. Steve Pearce has a good eye and some thump. Donaldson is a perennial MVP candidate.
Chemistry
The Blue Jays are all cut from the same mould. They are all angry in a good motivated way. They are defensive, in the best way possible. Everything you say to them can seemingly be framed into a challenge. We know Bautista thrives with the chip on his shoulder. Pillar doesn't like all of the attention on his defence because it doesn't acknowledge his all-around game.
Tulowitzki wants to show people what he is as a player, because Jays' fans haven't seen him like he wants to be seen. Estrada isn't on Twitter because he remembers how he got crushed with criticism days after the trade from Milwaukee to Toronto. He wants to prove the naysayers wrong every time he takes the ball. It seems as though every player on the team has overcome some obstacle to get where they are. They are united and motivated because of that.
Weaknesses:
Depth in the majors
Toronto's biggest question is: What happens if people get hurt? Darwin Barney and Ryan Goins are both no-hit/slick-field guys. There is a big drop off from Tulowitzki and Travis. If Donaldson is out for any substantial time they are in trouble. In the outfield, they have a bit more depth with Melvin Upton and Ezequiel Carrera. The pitching depth is a bit more suspect: Mat Latos isn't anywhere close to the five starters on the Jays. The distinct advantage Toronto has is the length, balance and depth of starting pitching. They will wear everyone down over time with the quality innings they throw. They can likely sustain one loss in the rotation but not two. The bullpen can be effective as initially built, but if anyone goes down, they may be in trouble.
Depth in the farm system
The Jays are committed to building up their farm system and have made strides in doing so. But they are not yet in a position to make a David Price type of trade any time soon. For Mark Shapiro and Ross Atkins to pull the trigger on that type of deal they will need excess beyond excess of prospects. So, at the trade deadline or earlier, we may see a deal or two for relievers, but don't expect any impact starting pitcher or position player.
Outlook
The Blue Jays are built to win now. Many thought that the window was closing because of Edwin Encarnacion and Bautista heading to free agency last fall. But this team is built around pitching now, not offence. It is hard to believe that just a couple of years ago Drew Hutchison was the Opening Day starter. He couldn't outpitch anyone on this staff. This club is solid defensively too. What they lost in Encarnacion offensively, they will gain with Morales and Smoak and other options to add balance to the lineup. This makes it harder on right-handed pitchers who worked against an exclusively right-handed hitting lineup last season.
The Jays have several Cy Young candidates and an MVP candidate. Bautista could certainly earn the AL Comeback Player of the Year Award. The Jays are a playoff contender and should win the division.
Prediction: 94-68, first place.
AL EAST PREVIEWS: Red Sox – Yankees – Orioles – Rays
Article Written by Steve Phillips of TSN
0