Canada Puts 'Grit vs. Skill' Debate To Rest With Win Over USA
TORONTO – They had heard the talk just like everyone else.
Wisely, and quite intentionally, Team Canada refused to wade into the great "Grit vs. Skill" debate touched off by Team USA leading into the World Cup.
But after sending their neighbours packing from the tournament with a 4-2 victory on Tuesday night, it wasn't lost on the hosts how they got the job done.
Team Canada rolled up its sleeves and went to work. The players drove hard to Jonathan Quick's crease and created some greasy goals. After hearing their opponent repeatedly suggest they wouldn't be able to match up physically, they simply wore Team USA down.
"I mean, I think that kind of fired us up to be honest with you," said forward Matt Duchene, who scored twice. "You look at three of our four goals, they're dirty goals, gritty goals, obviously we're very skilled but we have a gritty team as well and we showed it tonight."
This is a group that believes it can play the game any way you want.
Unlike the U.S., it will get a do-or-die game to put that thesis to the test. Team Canada has already booked a spot in the semifinals and faces Team Europe to determine first place in the group on Wednesday night.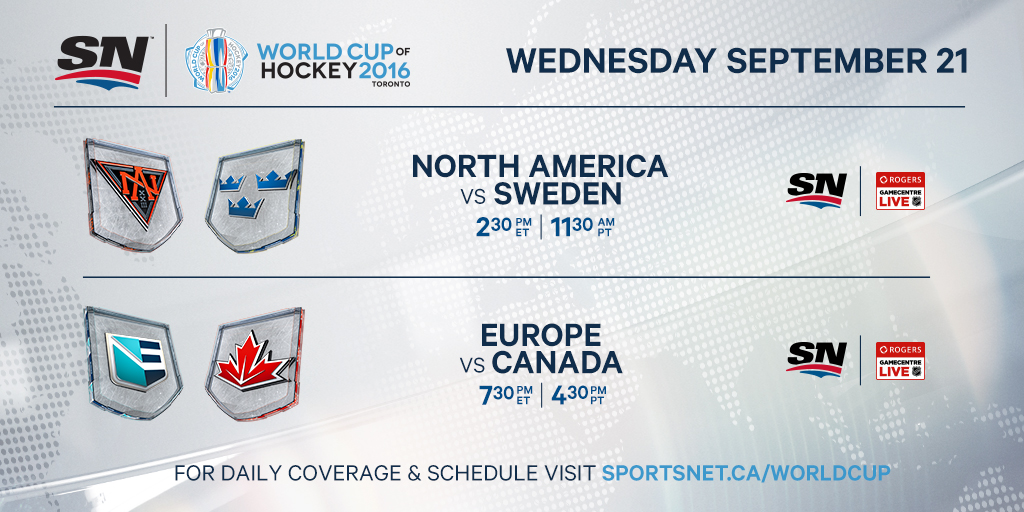 This wasn't a flawless victory, but it was a satisfying one.
Ryan McDonagh actually opened the scoring for the Americans after barreling over Marc-Edouard Vlasic and roofing a shot past Carey Price. That came 4:22 into the game and briefly silenced the raucous crowd that painted Air Canada Centre red and white.
Unbelievably, it was the first time Team Canada had trailed in best-on-best competition since the preliminary round at the 2010 Vancouver Olympics – no, they were never behind while winning gold four years later in Sochi – but it didn't last long.
All of 89 seconds, in fact.
That's when Duchene spun off a check from Dustin Byfuglien just as Vlasic sent a pass careening off the end boards and onto his stick at the side of the goal. You couldn't have drawn it up any better.
"I didn't take out my protractor or anything," said Vlasic. "But I'm a good pool player, so maybe that helped. I saw Joe (Thornton) on one side of the net and saw Duchene on the other side, so I just had to send it behind the net and it worked out."
Then the puck was dropped at centre ice and Team Canada came back on the attack. Logan Couture fired a shot from the wing that Quick stopped with his blocker – only to see it go directly off a hard-charging Corey Perry and in.
Duchene made it 3-1 before the intermission after getting a mini-breakaway out of a U.S. turnover and Patrice Bergeron cashed in during the second period after John Tavares undressed Matt Niskanen and threw the puck into the crease.
It hit Bergeron's skate, and McDonagh's skate, before crossing the goal-line. There was plenty of talent involved in the play, but it wasn't a pretty goal.
"That's something that you need," said Bergeron. "We have a lot of skills on this team, but I think you've got to work hard and you've got to outwork whoever you're playing. I think driving the net and getting the rebounds and ugly goals is part of hockey and part of being successful."
This didn't turn into the kind of slugfest some predicted.
Team USA came out way ahead on the official hit statistics (38-14) but that didn't reflect the feel of the game.
There were a couple hot moments, which included Shea Weber giving his new Montreal Canadiens teammate Max Pacioretty a little shot in retaliation for a hit on Couture, but they had no bearing on the outcome.
Instead, it was Team Canada's puck protection that provided an edge.
Hard, crisp passes. Winning races. Digging it out from along the wall. A willingness to drive into the most dangerous areas of the ice.
The performance wasn't quite as clinical as a 6-0 victory over Team Czech Republic in the tournament opener, but it was pretty darn good. Even when Team USA pressed late – hitting the post to Price's right on three occasions before getting a goal from T.J. Oshie – the outcome never seemed in doubt.
"There was times tonight that I didn't think we were even close to being as good as we're capable of being," said coach Mike Babcock. "But it was an opportunity to get better today and now we're set up to play more games in the tournament, which is real positive.
"We've got to take some steps."
Their biggest rival is no longer in the way.
Based on what we've seen through four days here, it's fair to say the path to a title looks reasonably clear. Babcock and his boys would never say that aloud – they are too busy staying in the moment – but they appear to have an edge on the rest of the field.
"In being Canadian, you're greedy," said Babcock. "You think it's your right to find a way to get 'er done."
Any way the opponent wants to play.
Article Written by Chris Johnston of Sportsnet.
0