DoubleDutch Introduces Live Engagement Platform for Event Marketing
DoubleDutch declared the end of the legacy event tech era and unveiled its plan for the future of Live Engagement Marketing. The company launched its new Live Engagement Platform that is purpose-built to transform analog events into digital social experiences. With this platform events can finally be measured and managed as easily as other digital marketing channels such as a Google ads, social or mobile campaigns, and email marketing.
"We have long believed that the true power of events has never been tapped, resulting in billions of dollars per year in wasted spend," said Lawrence Coburn, CEO and founder of DoubleDutch. "DoubleDutch is driven by our insight that the face-to-face actions, behaviors and conversations that happen at live events are a proxy for the purest source of intent – exponentially more powerful than a Google search or an email open. But until now, there has been no way to digitize and capture this engagement data. The DoubleDutch Live Engagement Platform converts an analog event into a digital social experience that can be measured, managed, and monetized."
Constellation Research reports that events comprise up to 33 percent of marketing budgets. Every year, companies spend more than $300 billion on analog events attempting to engage with more than 250 million people globally.
"Digitizing events will make Live Engagement Marketing a new marketing category just like search, mobile, and social marketing," said R "Ray" Wang, Principal Analyst and CEO of Constellation Research. "Live Engagement Marketing provides marketers with the capability to not only quantify event investments, but energize these live experiences to accelerate pipeline and sales, amplify brands, and ultimately improve conversion rates."
Prior to DoubleDutch, events results were difficult to measure – they were a black hole with no meaningful way to collect data, manage event energy, guide the attendee engagement journey, or report on business revenue results. y developing a new technology "stack" for live events with its Live Engagement Platform, DoubleDutch solves this problem. At the core of each live event is a mobile Live Engagement Event App, which amplifies what's happening and energizes attendees to engage. It gives attendees, speakers, sponsors, and exhibitors a channel to interact with each other and augment the physical experience.
DoubleDutch Live Engagement Platform
The DoubleDutch Live Engagement Platform is an ecosystem of applications, integrations and performance metrics that allows event organizers and marketers to maximize the power of Live Engagement Marketing.The platform integrates with both Marketo and Salesforce, allowing marketers to easily move the data captured during the event back into their marketing and sales systems of record. This data can then be used to unlock a new class of marketing and sales leads, trigger targeted campaigns based on show floor activities and interests, and enable personalized sales follow-ups in near real-time. The suite of DoubleDutch Live Engagement applications enables event owners and marketers to manage engagement and participation, insert sponsor and exhibitor communications, and offer detailed analytics applications to monetize and optimize business outcomes.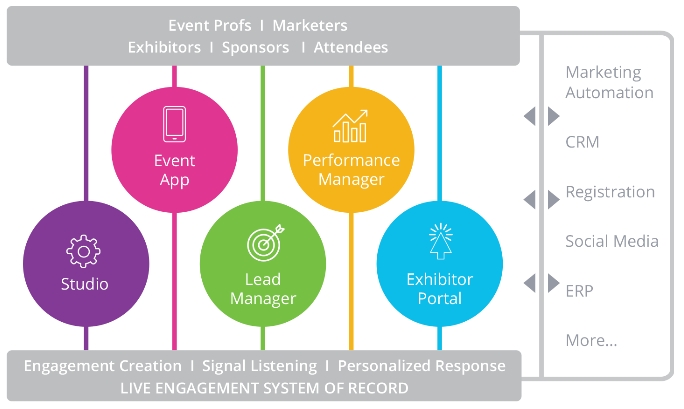 With the ability to capture and analyze live engagement data, DoubleDutch delivers marketers with the following:
Live Engagement Data: This new category of data is engagement signals captured through interactivity at a live event, providing the clearest insight about intent of each attendee. Today, the existing marketing channels, such as digital marketing and database marketing, provide marketers with demographic or behavioral data through which they can infer the interest of a customer. In contrast, Live Engagement Data, such as bookmarks, hashtags, questions, comments, posts, meetings, ratings, surveys, direct messages, are voluntary and contextual, providing marketers with a plethora of personal information of each customer. The live engagement data is easily ingested into Salesforce and Marketo, to create a new class of 'engagement leads' that will be treated differently than more passive digital based leads.
Live Engagement Journeys: The new platform empowers marketers to execute a new class of campaigns called Live Engagement Journeys. Live Engagement Journeys are executed before, during, and after live events. They are a special class of campaigns built to capitalize on the anticipation and excitement of people going to a live event, the experience that people have at the event, and the buzz, energy, and euphoria that people feel after an event is over.
"The DoubleDutch Live Engagement Platform is powerful because it provides us with the instrumentation to control an event just like we manage our digital ad campaigns," said Anthony Kennada, VP of Marketing, Gainsight. "DoubleDutch has moved events from somewhat of a black box in our business to a core hub of our digital marketing and revenue generation investments. Now we can finally take what happened at an event and move it into our revenue pipeline."
"DoubleDutch effectively captures data to drive best-in-class digital marketing visibility across live events," said R "Ray" Wang, Principal Analyst and CEO of Constellation Research. "As a customer of DoubleDutch myself, I've experienced the benefits of having this data be instilled into meaningful metrics and insights – something that no other company I've met with can do."
"Customers want to capture data to drive best-in-class digital marketing visibility across live events," said Wang. "The benefits of having this data instilled into meaningful metrics and insights is substantial, but the ability to take those insights into action is even more powerful."
Article Written By: The Exhibitor
0