Giovinco Plays Role of Hero as TFC Wins First Playoff Game
TORONTO – A game that was 10 years in the making proved to be worth the wait for long-suffering Toronto FC fans.
Under the bright lights of BMO Field on a crisp autumn night, TFC defeated the Philadelphia Union 3-1 on Wednesday before 21,759 spectators in the first round of Major League Soccer's playoffs. Toronto advances to the Eastern Conference semifinals where it will face second-seeded New York City FC.
The biggest game in TFC's history—it was the club's first home playoff date since they entered MLS in 2007—saw Sebastian Giovinco play the role of hero, with the Italian scoring one goal and collecting two assists. Canadian Jonathan Osorio and Jozy Altidore also found the back of the net for the Reds.
"When you play games like this, ones that are decisive, it's always amazing. We need to continue like this and we just can't stop," Giovinco said of scoring TFC's first-ever playoff goal.
 No single win could ever completely wipe out the hard times this team suffered both on and off the pitch in past years. But there's no question that Wednesday night's victory allowed the Reds to finally turn the page on that part of their history and begin to write a new chapter.
After bombing out of the playoffs a year ago in an embarrassing first-round loss in Montreal, TFC showed up in a very big way on Wednesday and put in one of their best efforts of what has been a very successful campaign thus far.
"It's a weight that's been on this organization for a little bit," defender Drew Moor admitted. "This is such a special organization, and a group that wants to compete for championships year in and year out, and when we turn in performances like that, when we get the support like that … it makes wins like that feel that much better."
What was especially impressive about this win was that it was a total team performance. The goal-scorers weren't the only contributors, as the defence held firm for the most part, while captain Michael Bradley and Armando Cooper covered a lot of ground in midfield. Altidore was superb with his hold-up play up front, routinely bossing Philly defenders off the ball, and wingbacks Justin Morrow and Steven Beitashour provided the attack with probing width.
"Everyone stepped up and answered the call tonight. The three [centre backs] were excellent. Morrow and Beitashour did a ton of work getting up and down the line and helping to get involved in the attack and got back to help defend," coach Greg Vanney said.
Special mention should be made for TFC's supporters, too. They not only braved a cold night on the Toronto lakefront, but they've put up with some pretty awful soccer by some pretty bad Toronto FC teams over the course of many lean years when this franchise was considered the laughing stock of MLS. This win was just reward for their patience and loyalty.
After the game, TFC players gathered directly in front of the south end of the stadium, where the team's most vocal supporters sit, and collectively banged on a big a drum while the fans in the terraces did the famous Viking Clap.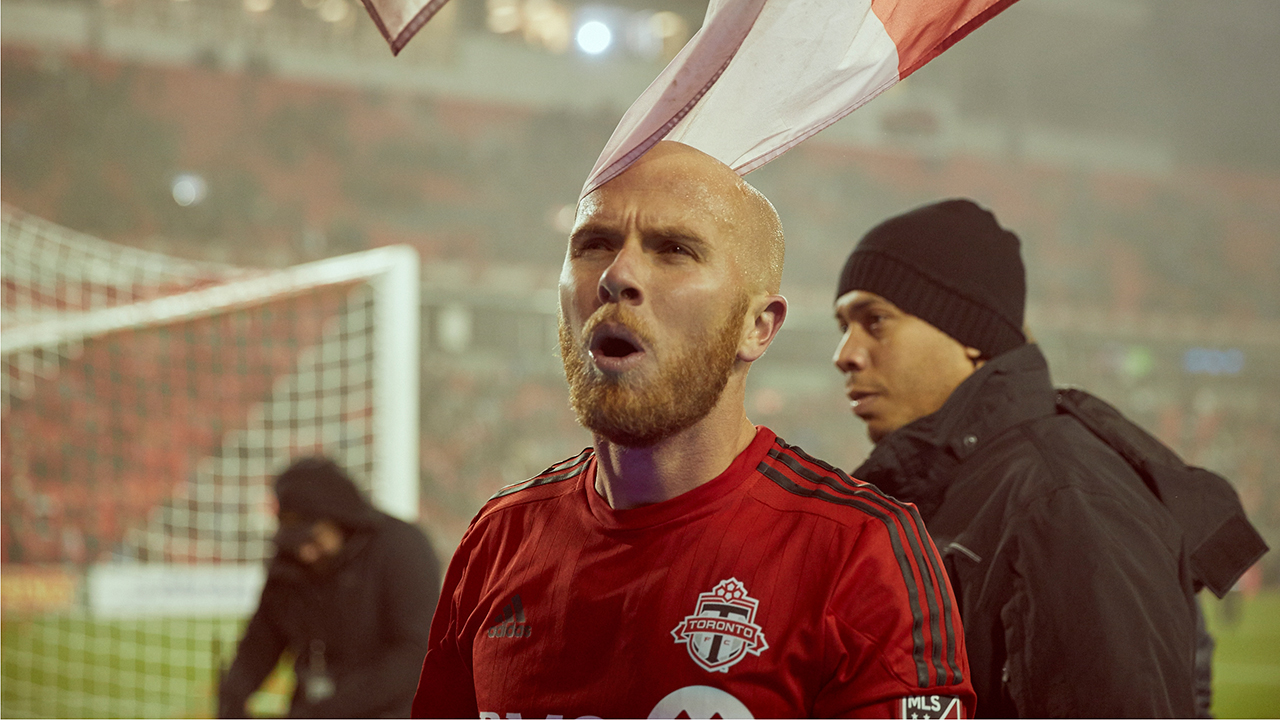 "[The fans], as we've said, make an atmosphere that makes a difference for us. And if [they] continue to help us, and we continue to leave everything on the field [for them], then it's only going to get more fun," Bradley promised.
Vanney didn't make any lineup changes from Sunday's regular season finale, a 3-2 win over the Chicago Fire, and he again went with a 3-5-2 setup, as opposed to the diamond-shaped 4-4-2 formation he often deploys. Wednesday also marked only the second time this season that the Reds used the exact same lineup in consecutive games.
Philly started out strong, pressing the home side high up the pitch and buzzing in and around the Reds' penalty area. But it was a defensive miscue by the Union that gift-wrapped Toronto the opening goal of the contest in the 15th minute.
Ken Tribbett played a horrendous back-pass towards his goal, and goalkeeper Andre Blake compounded matters by rushing out for it. Altidore beat him to the ball and deftly flicked it over to Giovinco who volleyed it off the crossbar and into an open net.
TFC doubled their lead in the 48th minute thanks to some nightmarish set-piece defending by the Union. Nick Hagglund got a touch on Giovinco's corner kick, playing the ball out wide for an unmarked Osorio to run onto and slam past Blake.
In desperate need of two goals, Philly suddenly began to press the hosts deep in their end of the field. The pressure paid off in the 73rd minute when TFC couldn't clear its lines off a corner kick as the Union played three consecutive headers inside the penalty area before Alejandro Bedoya stabbed it home from in close.
Any chance of a Philly comeback was dashed in the dying minutes when Giovinco broke forward against three Union defenders and played the ball across to Altidore. Tribbett couldn't clear it, and Altidore smashed it past Blake.
NOTES: Toronto hosts New York in the first leg of their playoff series this Sunday at BMO Field. The decisive return match is Nov. 6 at Yankee Stadium. The teams played to a pair of draws during the regular season… TFC recognized former star players Danny Dichio and Jim Brennan on the field prior to kickoff of Wednesday's match… Toronto hosted the 2010 MLS Cup final between FC Dallas and the Colorado Rapids in the only other MLS playoff match staged at BMO Field.
Article Written by John Molinaro of Sportsnet
0