How UNI collapsed, and how they handled heartbreak
OKLAHOMA CITY — Wes Washpun and a couple of his Northern Iowa teammates held each other upright as they walked tearfully through the long corridor inside Chesapeake Energy Arena, they and coach Ben Jacobson on the way to be asked to recount and relive a half-minute of their lives they might wish never to consider again.
"Yeah, it felt like we were a minute away from dancing," said forward Paul Jesperson, meaning not dancing in the NCAA Tournament cliché sense, because the Panthers already were in the middle of that, but literally dancing to celebrate their advance to the Sweet 16.
Instead they facilitated the greatest last-minute comeback in college basketball, ever, Texas A&M rallying from a 12-point deficit that stood after two free throws by UNI guard Jeremy Morgan with 44 seconds remaining. The Aggies won in double overtime, 92-88.
"Friday night, Paul hit that big shot, and obviously that's the best feeling you can have in this tournament: a buzzer beater," forward Klint Carlson said. "Now tonight, being a minute away from the Sweet 16 and not being able to get there, it's hard, man. Really, you just want to get back out there. Right now I'd love to be able to play that last minute-and-a-half, two minutes over again."
How does one blow a 12-point lead in less than a minute?
Fairly carelessly, to be honest. The turnovers could not be just routine. They had to be monstrously destructive, leading directly to opposition baskets and allowing almost no seconds to tick from the game clock. Those points, on more than one occasion, had to come three at a time. There had to be panic.
"I'd congratulate Texas A&M on just staying in there long enough," Jacobson said. "If they made one small mistake in that last 30 seconds — anything — we would have still gotten out of there."
It is amazing some of the things that had to go wrong in order for Northern Iowa to go from exhilaration to elimination so rapidly, some of the things one might never consider without an intimate knowledge of the team.
Senior Matt Bohannon, who made the brilliant inbound pass Friday night that set up Jesperson's game-winning, buzzer-beating midcourt shot to defeat Texas in the first round, was injured with 1:11 remaining. Not having Bohannon to inbound the ball against a frantic, suffocating, all-out fullcourt press was ultimately debilitating.
Thus there were three turnovers in the final 29 seconds, the first stolen from Morgan by Aggies guard Admon Gilder and fed to star Danuel House for a layup. Later there were the two that were most brutal, one from Jesperson when he tried to bounce the ball off a defender's leg but threw it directly to forward Jalen Jones for a dunk with 22 seconds left. Even after seeing this — and after Jesperson had fouled Aggies guard Alex Caruso for an and-one that cut the lead to just two points with 12 seconds left — Washpun tried the same maneuver inside the final 5 seconds and wound up "passing" to Gilder for a layup.
Given the time when he excepted the inbounds pass, and the space available before he was trapped, all Washpun had to do was dribble out as much time as he could before A&M was forced to foul.
"I was ready for it," Gilder told Sporting News. "Once we had him trapped, I pulled back my leg, and I backed up and got the steal. I saw the layup there, so I was going to take it."
UNI had called its final timeout with 33 seconds left and a 10-point lead, after Caruso missed a 3-point shot that was rebounded by Gilder and converted into a layup. During that huddle Jacobson told the players if they were to get in extreme trouble to throw the ball long into the backcourt, which would have robbed A&M of some of the time they needed and might have avoided a turnover.
"And, unfortunately, in that situation you don't think about throwing it long, even after you've talked about it," Jacobson said. "So had we done that once or twice and gotten some seconds off the clock, then we're fine. There will be 100 different ways to slice that up. Unfortunately, at the end of the day, these guys should be playing next week."
However obvious the truth in Jacobson's statement, they would differ with this contention on the Texas A&M side. And rightfully so. The Aggies played dreadfully for 39 minutes, 25 seconds, falling behind by as much 15 points and trailing still by double digits as a trip to Anaheim and the Sweet 16 beckoned.
It would have been so easy to abandon the season at that point.
"I just kept telling myself, in my head, repeatedly, 'God, whatever lesson you're trying to teach me right now, I'm ready for it," freshman center Tyler Davis told SN. "We're a resilient team. We're built for this. We fight. No matter how much time it is, no matter what the margin, keep playing hard."
The contrast in the two locker rooms might have been the most extreme in NCAA Tournament history, however difficult it might be to quantify such an observation. The Aggies had music blaring, food available on a table, delight in every loud voice. There was almost no air to breathe in the UNI room up the hall. Every head was bowed, every set of eyes fixed to the floor.
And in the room where the press conferences were conducted, Jacobson, Washpun, Jesperson and Bohannon sat and did what they could to explain the inexplicable. On a night they'll all wish to forget as soon as possible, the players' composure was something of which to be proud.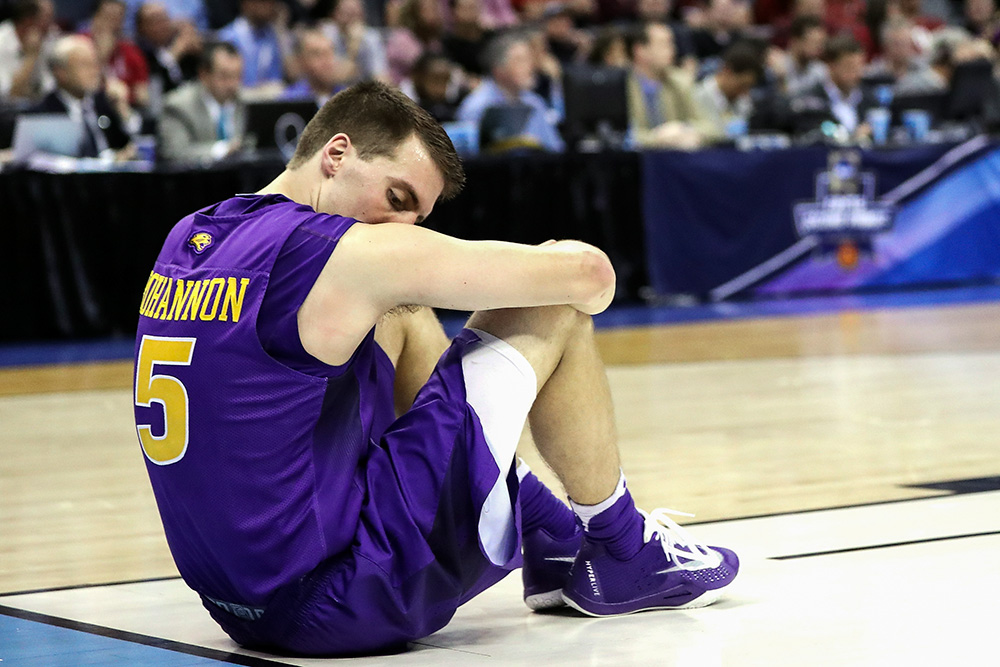 Jacobson explained the tournament's media coordinators had asked for the press conference to include Carlson and Morgan, players who had excelled with a combined 53 points, but he'd overruled and instructed his seniors to join him.
"I told them, no, we're going to go and do this. It's not going to be easy for these three young guys, but I'm telling you, they can handle it," Jacobson said. "Man, we played our tails off and unfortunately we were on the wrong side of a crazy 30 seconds — you know, 30 seconds that we aren't going to be able to ever have an answer for, nor do we need one… It just happened to go that way.
"But everything that happened to get to that point, these are three of the finest young men and three of the best guys we've ever had come through our program. And I'm extremely proud of them."
Article Written By: Mike DeCourcy
0