Technology Justice: How to Get Energy To All
SDG 9: to "build resilient infrastructure, promote inclusive and sustainable industrialization and foster innovation," is critical because it will determine whether we achieve energy, health and education goals. The focus on resilience and sustainable development is welcome, but innovation and development must change to achieve this.
Infrastructure
How can we develop infrastructure that is sustainable and resilient, affordable and equitable, which supports the economic development and well-being of those left behind by the industrialization of the 20th and early 21st centuries?
What would this look like in the energy sector? Existing energy infrastructure, based on large-scale power grids, fails more than 1.3 billion people who live without access to a reliable source of energy. Ninety-five percent of these people live in sub-Saharan Africa or developing Asia. Eighty-four percent live in rural areas. At Practical Action, we believe addressing this gap is critical for global development. Without access to energy, people cannot access decent health care, education or communications. Economic development and productivity is hindered and the potential to start up small businesses is reduced. Women, who make up a disproportionate percentage of those living in rural areas, are hit particularly hard.
For energy infrastructure to deliver a full spectrum of benefits to the 1.3 billion currently without it, it must meet their needs. Large-scale power grids are prohibitively expensive, slow to build and will continue to bypass those not economically able to pay for such huge projects. Moreover, they are often unreliable, and are heavily dependent on fossil fuels.
For equitable-infrastructure development, it is time to focus on decentralized, sustainable-energy access. And we know this works. In the remote, rural Zimbabwean communities of Himalaya and Chipendeke, far from the national grid, Practical Action and Oxfam have established a micro-hydro system that powers a water pump for irrigating crops, local businesses, a school and a medical centre. Here, nurses talk of mortality in child birth in the past, rather than something that happens every month, and school teachers discuss buying computers, rather than how to encourage pupils to finish homework before the sun sets. This is infrastructure for the future: sustainably meeting the needs of those left behind.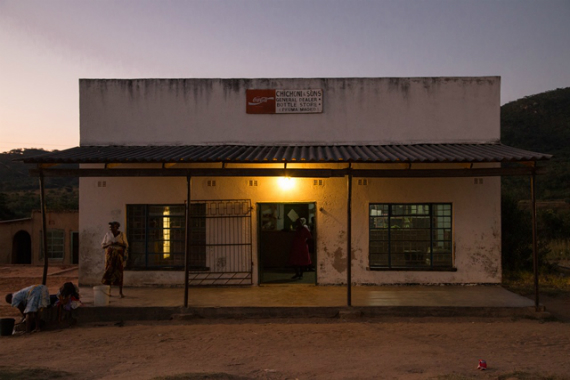 Chipendeke clinic can now provide emergency health care at night. Photo Credit: Jamie Oliver/Practical Action
Industrialization
What about inclusive and sustainable industrialization? How can we help small-scale enterprises in developing countries access financial services, value chains and markets?
Reaching those left behind with market services requires adaptation of existing market systems. Although understanding of how markets work for those living in poverty has improved, many approaches to market development still fail to be truly participatory. Practical Action has developed and pioneered the Participatory Market System Development (PMSD) approach, designed to make markets more inclusive, to reach more people and to reduce poverty in a sustainable way.
The critical elements of PMSD are:
· Participation: Change in market systems is dependent on the decisions and actions of all actors — we must bring together diverse strategic players to realize meaningful change
· Systems thinking: Markets are complex adaptive systems made up of many actors who influence each other — we must understand and build upon the relationships and interactions between actors
· Facilitation: NGOs should not become market actors — to create sustainable change, NGOs should facilitate the conditions for public and private-market actors to drive change themselves
What does this mean in practice?
In Kenya, Christian Aid, Practical Action Consulting and the Kenya Honey Council have used a PMSD approach to bring together different actors in the honey sector, and identify constraints to market access for marginalized, rural honey producers. Of the constraints identified, Christian Aid has chosen to focus on two: access to finance and access to markets. Their development model utilizes "honey hubs." These hubs apply quality control, develop relationships with buyers and service providers, and guarantee access to finance. This approach can pave the way for small producers throughout the world to develop by solving problems, bringing better access to finance and markets, and identifying the actors needed to achieve change.
Innovation
To support these changes, we must find new ways of ensuring scientific research, support innovation and improved technological capability in developing countries.
Both private and public actors should increase investment in research and development (R&D), to focus on solving the challenges facing the two billion living in a way that guarantees a sustainable future for all. Today's innovation efforts are skewed. The vast amount of R&D addresses the needs of wealthy consumers and producers. For example, only 10 percent of worldwide expenditure on health research is spent on problems that affect 90 percent of the world's population.
To ensure that R&D targets those left behind, improves their well-being and does not exacerbate existing inequalities, R&D efforts need to be informed by the principles ofTechnology Justice:
Equitable access: technologies should be designed to be accessible to those who need them the most
Responsible innovation: new technologies should meet the needs of those left behind and increase their well being
Sustainable use: technologies should be designed to achieve these aims without harming others or the environment, and without compromising the ability of future generations to do the same
Achieving sustainable development for all means reaching those that have been left behind; infrastructure that meets their needs, industrialization that includes all market actors, and innovation that is truly just.
Read more at: http://www.huffingtonpost.com/jodi-sugden/technology-justice-how-to-get-energy-to-all_b_8125248.html
Written by: Jodi Sugden
0